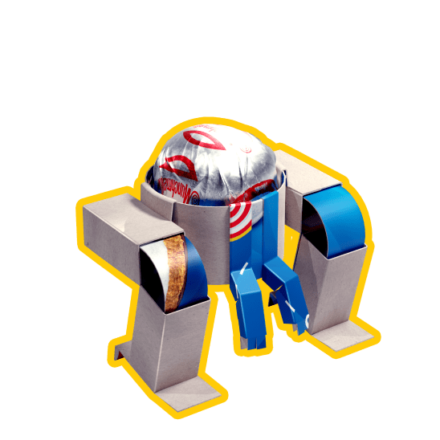 Ivica
Fun fact:
Member of the rock band MANCHEZZZZZI.
Main traits:
Resourceful
Strong legs
Younger brother
Quirk:
Can eat a lot of food
Meet Ivica
They call him Ivica, the Cutie, although he doesn't like that nickname.

He considers himself serious and resourceful.
He often goes to training sessions with Rilo and has one rule: he only trains his legs!

His wish is to one day take first place in the Munchthathon. He's the fastest in the team until Mena puts on her skis and zooms past him.

They have a plan for her to teach him skiing, but Ivica seems a bit afraid of skiing, so he forgets about this agreement.

Ivica thinks of himself as an absolute music lover and often sings to the crew. He and Jaro are in a rock band called MANCHEZZZZZZI.

They have performed on two planets, but they hope for intergalactic success.
He is the person to whom the whole crew gives their leftover food at the end of lunch because he eats everything. Build the next RoboMunch!